Retreats in Nature
Why Retreat Here
About Ayurveda
About Rasayana
Rasayana Treatments
Fees and Booking
Accommodations/Food

Couples Retreats

Home
About Us
Contact Us
Guests' Remarks
Photo Gallery
Links
Site Map




Rasayana Cove welcomes groups to explore Ayurveda at our 25 acre nature retreat in the woods of Central Florida.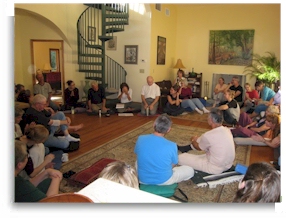 Visit an Ayurvedic Retreat in the countryside where Ayurveda is experienced with the presence of nature's elements: earth, water, fire, air, and space.

We welcome groups from yoga centers, Ayurvedic colleges, nurses, massage students, and other health practitioners. (Maximum: 15 people)

The day includes a morning workshop on the principles of Ayurveda followed by a cooking demonstration. For Ayurvedic cooking workshops we teach the theory of the 6 tastes and 7 levels of absorption while preparing vegetable dishes flavored to enhance taste and increase assimilation of nutrients.

Savor a traditional Ayurvedic meal by the open fire outside under the oak trees.

Afternoon sessions include each individual verifying his or her Ayurvedic constitution and learning home remedies for common ailments.

Practice the methods of using Ayurvedic oils for self massage or to care for patients.

Discover home methods of Panchakarma - vamana, basti, virechana, and nasya.

Special workshops focusing on Ayurvedic cooking or Ayurvedic massages are available through private arrangement.